Poutine Shack Sign Up is now LIVE!
Sign Up sheets for the Poutine Shack at the Saanich Fair are now posted in the Foyer beside the Global Outreach Board. All money raised from your shift will go towards your choice of the March 2020 DR trip, the trip of a friend or family member, your sponsor child, or directly to House Upon the Rock. Its always a party at the shack, you're not going to want to miss out!
Contact Pastor Byron for more information: byron@yourfcc.ca
The Dominican Team is now collecting school supplies!
We will be taking donations of the items listed below over the next few weeks. Please drop off any NEW donations in the marked bin located in the Foyer by the info booth. You can also donate financially if that is preferred.
Contact Byron if you have any questions: byron@friendshipcommunity.ca
ACCEPTED DONATIONS:
Scientific calculators

Backpacks

Pencil Cases

Pencils / Pens

Highlighters

Crayons

Pencil Crayons

Rulers

Erasers

Liquid Paper

Scissors

Glue Sticks
Please DO NOT donate:
Used items (new items only please)

Binders or loose leaf paper as these are not used in the Dominican.

Medical supplies, as the clinic has no current need for this, and has asked us to solely bring school supplies this year.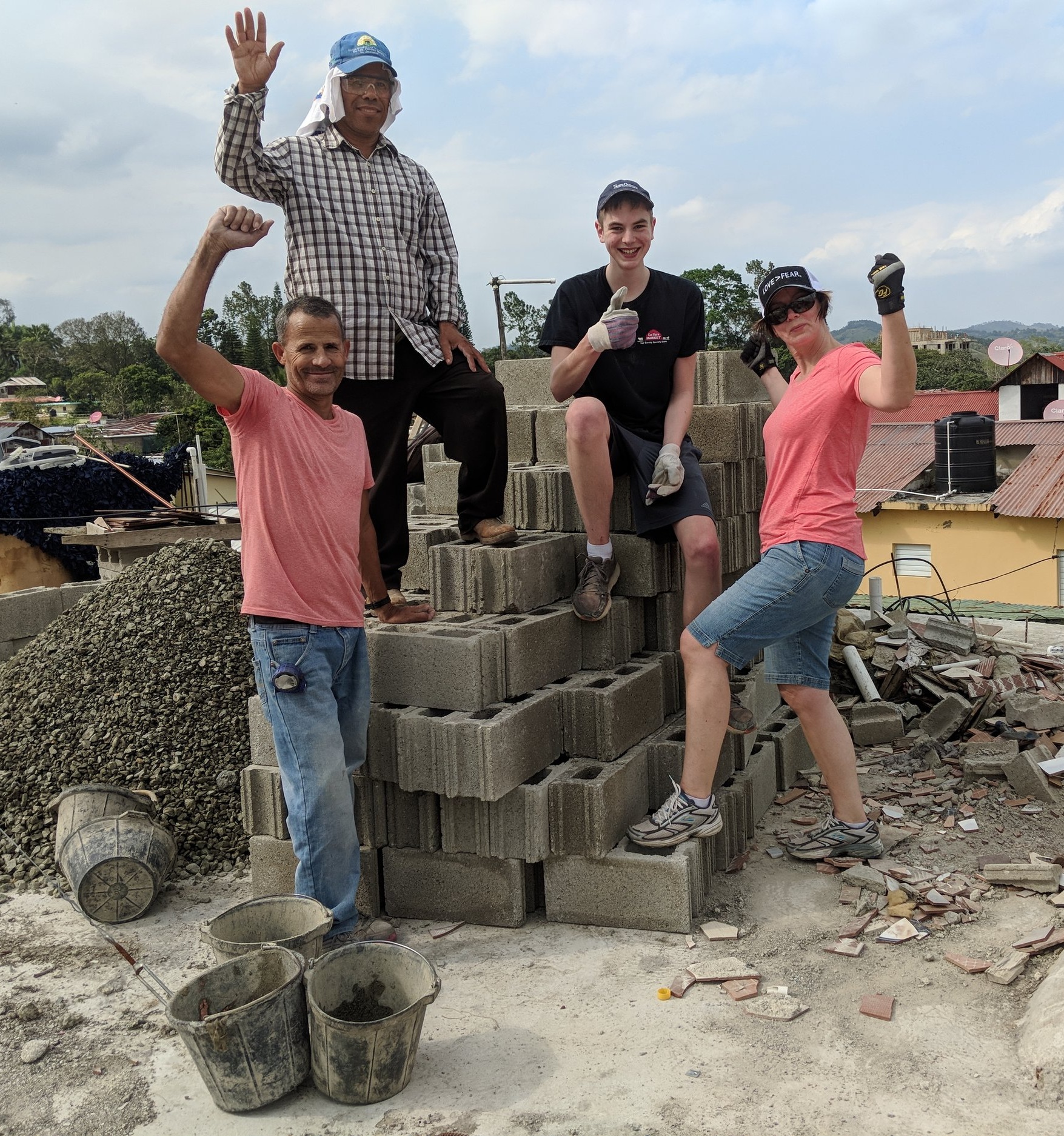 HOUSE UPON THE ROCK - Dominican Republic Trip
Every year our church sends a team down to the Dominican Republic to support the House Upon the Rock Ministry where we help build houses, support a clinic, sponsor kids and build relationships. We have ten years of relationships built in the community of Pedregal! The next trip is planned for July 2019.
DR TRIP 2018 Highlight Video:
HOUSE UPON THE ROCK VISION AND MISSION:
"House Upon the Rock seeks to foster walking in faith, being a voice of hope and an example of love to individuals and communities in Canada and around the world as exemplified by Jesus. House Upon the Rock is an organization whose purpose is to share the love of God in Canada and around the world through construction, medical, education and evangelism." – House Upon the Rock Webpage
Current Project: Purchase of a Mission House
Paul and Sharyn, House upon the rock founders, have a vision of owning a space that can be shared by many for the purpose of ministry. The property they are seeking to buy and use was previously built and lived in by the family. They now seek to purchase the property for House Upon The Rock in order that it may be used to house short-term teams, other missionaries, local church retreats, pastoral retreats, among other uses. This has been a ten-year dream for the couple, and God has finally opened the door for them to take the next steps in making this a reality. If you wish to contribute to this, follow the link below. fill in your donation amount, and at check out, indicate under "order notes" that the donation is to be designated for the purchase of the mission house.
Ministry of Mercy - Nigeria
For many years FCC has supported the orphanage run by Daniel and Esther Edeh in Nigeria. The orphanage has a huge impact as they care for over 400 children, including their physical, emotional and spiritual needs. They provide education, as well as medical care, and is one of the largest orphanages in Nigeria.
MINISTRY OF MERCY VISION AND MISSION
"The Ministry of Mercy Orphanages (MOM) is a Nigerian registered charity that cares for the physical, medical, educational, and spiritual needs of those in its care… it has now grown to be one of the largest orphanages in Nigeria with two large complexes providing a home for more than 400 residents, mostly children and babies." – MOM WEBPAGE
CURRENT PROJECT:
FCC has been involved in supporting MOM as they have recently built a new clinic. This clinic seeks to specifically help in the area of pregnancy care, labour, delivery and HIV/AIDS in an effort to decrease infant mortality rate. With the clinic complete, there is still a need to adequately equip and staff the clinic. FCC helped to fund the shipping of a freight container full of medical equipment from Canada. Yet, there is still much more to be done before the clinic is fully operational! Your support through prayer and finance is always appreciated! Please continue to pray for the clinic, those that work there, the missionaries, and the many children who call the orphanage home.
If you would like to donate financially, please follow the link below and indicate you'd like to give to ministry of mercy.
Friendship is involved in, and supports, a number of local outreach initiatives. Read below for more information on what we are involved in!
Kingcome Inlet Cultural Exchange
Beginning in 2018, our church has been sending a team to the remote village of Kingcome Inlet for a cultural exchange and service project. Our goal is to get to know the community and the culture, as well as love and bless the people through various service projects. We are now accepting applications for the 2019 trip. Click the link below to access the application.
Living Edge Food Market
As of the Fall 2018, FCC has been a part of the Living Edge Food Market being offered on the Saanich Peninsula. Once a month, a group of volunteers helps to run the market located at Saanich Baptist Centennial Park Campus. This is an amazing outreach that provides fresh food for those in need in our community. For more information, follow the link below, or contact Connor Bearg at connor@yourfcc.ca
Other Local Outreaches We Support:
Click on the links below for more information
Saanich Peninsula Hospital Chaplain

Annual Dinner for Longview Farm Workers
Brent & Shelley Weeks with Reach Beyond
Brent and Shelley live and serve in Australia with Reach Beyond ministries. Their main focus is to spread the gospel through radio ministry that is broadcast throughout Asia. They have an amazing ministry and testimony. For more information, click the link below.
Kai Tissari with YWAM Nanaimo
Kai is committed to serving as team leader with YWAM Nanaimo. He will be leading teams in their discipleship training school and outreaches, which are focused locally and overseas. This is a very new base, just opening in 2019. For more information on how you can help support this amazing ministry, follow the links below.
Emma Cowley with YWAM Wisconsin
Emma will be attending the DTS and outreach at YWAM Wisconsin with a focus on Children at Risk from September 2019-March 2020. Fore more information on what Emma is doing and how you can support her, email emmajcowley5@gmail.com or visit the YWAM website below.
Karla Cumming with YWAM Panama
From September 2019 - March 2020 Karla will be attending a DTS and serving in Panama with YWAM. For more information on her trip, and how you can support her, email karla.cumming@gmail.com or visit the website below.
Missions Scholarship Applications
Scholarships, for up to $750.00, are now available to those who will be attending a missions OUTREACH, DTS, or biblical post secondary education at a length of at least 2 months, or more.
To apply, download the application below and drop off at the church office, or submit to Byron@friendshipcommunity.ca
GO Team Vision Statement:
Our vision is to wisely and effectively support outreach activities with the ultimate purpose of establishing and strengthening the Church of Jesus Christ at home and around the world.
CURRENT GO Team:
Merlie McGee

Jackie Friesen

Mark Bowers

Darcy Winkel

Ingo Speier
Ad hoc members: Byron Knight and Tim Sawatzky
GO Team Goals:
To define and implement a vision for global outreach

To develop and adhere to a set of guiding principles the will be used to evaluate and support outreach opportunities

To develop an annual budget that reflects the vision and guiding principles including:

the consolidation of financial support such that a few high priority projects receive significant, effective funding in lieu of supporting many projects with small amounts of funding

increasing the GO budget as a percentage of the total church budget

increasing transparency and accountability

To identify outreach opportunities and make them known to the FCC family

To raise the awareness within the FCC family concerning needs, effective ways to meet needs and suggestions concerning wise giving in the area of outreach

To provide appropriate training and education for those called to serve in a global outreach project

To provide opportunities for those who have served to share their stories with the church family
GO Team Guiding Principles:
We seek to meet the physical, emotional and spiritual needs of people through effective outreach activities
We seek unity in every decision that is made through prayerful deliberation of the information available to us
As we minister to the poor, the sick, the hungry, the orphan, the widow and the outcast in this world we seek to incorporate the following guidelines:
RAISE
Relationship - We will minister in the context of real relationships with individuals, teams or organizations that are known to us.
Accountability - We will minister through and support agencies and organizations with a proven record of fiscal accountability.
Indigenous Sustainability - We will minister in ways that will have a long term, positive impact whereby locals lead and support their own work in ways that are not dependent upon continual outside support.
Equity - We will minister in ways that will foster equity among people in a given culture (for example: we will not support a pastor in ways that elevates him above his congregation).
Budget Development Process:
Ask each prospective ministry that is seeking support to complete a questionnaire detailing how their ministry addresses the RAISE principles.

As a team, evaluate the responses and, with prayerful consideration develop a preliminary GO budget

Present this GO budget to the Board for discussion and inclusion into the overall FCC budget

Present the FCC budget to the church family for consideration and approval by the membership
Budget Organization:
The GO budget will be divided into 2 parts:
1. Core Budget
This part contains all of the ministries selected by the team and approved by the church family that will be funded by the General Fund such as support for the Weeks or support for BGCC.
2. Special Projects Budget
This part contains individual projects that will be funded by special offerings such as fund raising for the Dominican Republic short term mission team.